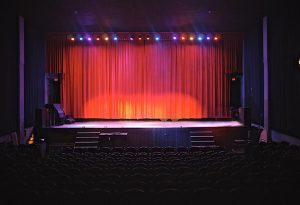 If you'd like to book an event for private or public use, please email owner Corinne Lea <[email protected]>. Please include in the subject "Interested in Booking" followed by the date. In the body of the email, tell us a little about the event you're looking to hold – film or live, public or private – and she will get back to you as soon as possible
*Registered Non-Profits and Charities receive a 10% discount on all rental rates.
Our stage size is 40 feet wide and 20 feet deep with a newly renovated greenroom  (private bathroom, built in heaters, large lounge downstairs and internet) for performers. The theatre has 420 seats, including a balcony section. There are few – if any – venues in the city with the intimacy and acoustics like the Rio. Concerts here are unforgettable. The dance floor is 45ft x 10ft , 450 square feet. If you are renting the theatre for your movie premiere or film festival our recently installed HD digital projector is the same quality that all the major multiplexes use. Our award winning concession/bar, is available for all of our bookings and has a wide range of options from locally brewed Craft beer & cider, local organic wines, cocktails, mixed drinks, candy, pop & popcorn, including artisan Grilled cheese sandwiches! Our friendly staff will make you feel like you are at home and we pride ourselves to help make your event a success.
Rates vary depending on dates and times.
This is what the Rio provides when you rent
For Movie Screenings/ Standard Rentals:
Cinema sound system is for films and recorded music only.
One manager/tech person (Rio equipment) plus one box office person
Concession/bar service
One security guard if needed
Equipment
State of the art digital projector, basic PA system, an upright piano and tables for merchandise.
26 LED par cans; 6 lekos spotlights (fixed position); 1 follow spot.
*A live sound system is available from Rock Shop at extra cost. Ranges from $200-$1,000 depending on what is required*
If you have an event, the Rio can hold it. Along with our stunning cinematic and concert presentation the Rio has hosted a variety of events: live concerts, seminars, fashion shows, comedy shows, award galas, graduations, film shoots and weddings to name a few, but, the possibilities do not end there. Let us know what you need.
School Tours : Educational Field Trip
The Film + Perspective series is open to all age groups who wish to have an entire theatre to themselves, while experiencing an exclusive tour of the projection room.
At the Rio, we are thrilled to be operating our brand new, state of the art, digital cinema projector.
The theatre was built in 1939 and the projection room was constructed like a concrete bunker for the highly explosive nitrate film used back in the 40s. History meets modern technology on this fun tour.
The Tour includes
One screening of a movie of your choice to be determined prior to the screening
One small popcorn and one small fountain drink per student
A brief educational guided tour of the projection room and history of film technology
Equipment available for your use: one spot light, two microphones plus stands. Two tables are also available.
The 2019 pricing for school tours is $13 per person which includes the film screening, small pop and popcorn and a tour of the historical projection booth or educational video depending on time.
There is a $450 min for groups under 40 people. (Adult supervisors are free unless they have a popcorn and drink). Payment must be made on the day of the screening. An invoice will be provided when the number of children is confirmed. One week notice is required for any cancellations.
On-Screen Advertising
To see your ad on the big screen before our movies, contact [email protected]